Sale!
Adjustable Persuader-Pin Puller
From: $74.99
Retail Purchase Price:
$74.99

each
or Wholesale
(In Units of 10 ) Price:
$ 390.00

(10pcs) =

$39.00

each
Description

Are you tired of getting soaking wet and half frozen while adjusting axle weight? Is your slider clutch pin stuck or frozen causing you frustration? Save time and money with the Persuader-Sliding Tandem Pin Puller.   Let leverage save you from back trouble and time! Our Pin Puller tool allows you accomplish a tough task by using simple leverage to do the hard work! No more messing with hammers and banging stuck pins!
According to OSHA over 50% of truck driver injuries occur from sprains and strains.  So protect yourself and stay on the road and out of the doctor's office.
Lower the chances of getting a ticket and distribute your load with ease with our Pin Puller tool. Sliding your tandem axle has never been easier! Why risk having your load taking off the road and getting huge fines? Order the Persuader sliding Tandem Pin Puller today and save money and time!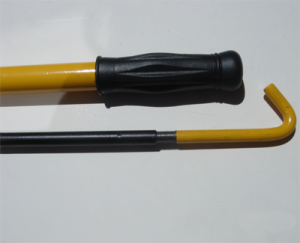 Additional information
| | |
| --- | --- |
| Weight | 4 lbs |
| Adjustable Persuader | Retail (less than 10 Units), Wholesale (In Units of 10 ) |