Persuader-Sliding Tandem Pin Puller
From: $50.54
Retail Purchase Price: $

50.54

each
Wholesale ( In Units of 10)
$23.08

ea.
Total case price is $

230.87
Order Today….
Description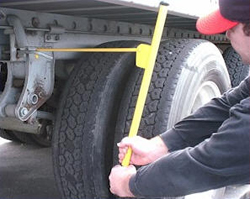 The Persuader-Sliding Tandem axle Pin Puller tool is a must have tool for your truck toolbox. Why crawl under your trailer? Why hurt your back or your hands pulling on that stubborn rear axle pin? Use the leverage of the persuader to your advantage while pulling your tandem axle pin. Just hook the pin, place the knob on the trailer base, and pull the gripped handle!
Use the Persuader-Sliding Tandem Pin Puller tool to pull frozen or stuck tandem pins. Why risk pulling a muscle and waste valuable time messing with your trailers tandem pins? Make life easier and order the Persuader-sliding tandem axle pin puller tool today!
Did you know the most common trucking injuries  are to nerves, tendons and muscles.
Pulling and Lifting awkward heavy objects
Too much Repetition without proper rest
Gripping and Pulling objects tightly
What are the most common types of trucking injuries?
Carpal Tunnel Syndrome (CTS), caused by a compressed nerve in carpal tunnel
Muscle sprain and strain by reaching and pulling
Tennis Elbow (epicondylitis), a condition when forearm muscles become damaged from overuse
Shoulder Pain, Pinched nerves, Dislocation, Rotator cuff injury, Tendon rupture, Torn cartilage
Back pain, Bulging or ruptured disks, Muscle Strain and Ligament Sprain
Tendonitis, inflammation or irritation of a tendon
Order the Persuader-Sliding Tandem Axle Pin Puller today and reduce injuries on your trucking job.
Additional information
| | |
| --- | --- |
| Weight | 4 lbs |
| Persuader | Retail (less than 10 Units), Wholesale (In Units of 10 ) |