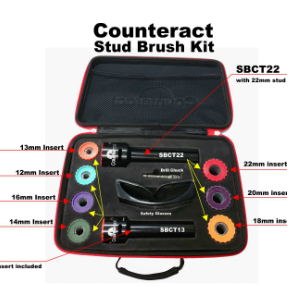 CounterAct Heavy Duty - Stud Brush Kit
Use the CounterAct Heavy Duty Stud Brush Kit to clean your truck and trailer's studs. Save money and keep your trailer and truck's studs in proper working order. This is a great truck tool to keep in your toolbox! Keeping your studs clean and functioning well will save you  time and money.
Welcome to Truckingtools.com- Your source for the best quality trucking tools
Thanks for stopping by Truckingtools.com , your online truck stop for truck tools that make your trucking job safer and easier. If you have not found our products at a truck stop yet, here is your chance to see the greatest new trucking tools since the CB radio. When it comes to your safety, we're in it for the long haul. We offer free shipping on all our truck tools and quality is our guarantee. Did you know that 50 percent of trucker injuries are due to Sprains and Strains on the job? Our trucking tools help truckers safely do everyday task by reducing the risk of trucking injuries.
Why risk workers comp claims and cost your company money? Spend more time working and reduce on the job injuries with our truck tools. We provide a variety of trucking tools for many tasks including: pulling tandem axle pins, trailer strap rolling tools, stud brush kits, tire balancing beads, and slider adjustment tool. Our goal is to provide you with smart durable trucking tools that make your job safer and easier on the road.