Handee Hook-Double Handled Pin Puller
From: $29.99
Retail Purchase Price: $29.99 each
or
Wholesale ( In Units of 20) $12.56 each… Total case price is $ 251.20
Description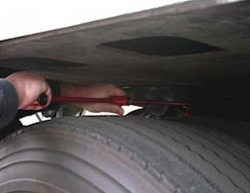 Use the two handles of The Handee Hook to your advantage when parked tightly between trailers. The Handee Hook can save you time and money by reducing fuel cost by getting you on the road faster. Reduce the chances of serious muscle strains by using the Pin Puller tool to your advantage.
truck tool, pin puller, handee hook
All you got to do is hook the pin and grab the Double Handles and pull those tough pins. Tired of rusty or frozen pins, no problem with the Handee Hook pin puller tool.
Every truck should have a Handee Hook
Additional information
| | |
| --- | --- |
| HandeeHook | Retail(one unit), Wholesale(In Units of 20 ) |