Handee Hook-Double Handled Tandem Axle Pin Puller
From: $48.19
Retail Purchase Price:
$48.19

each
or
Wholesale ( In Units of 20)
$24.48

each…
Total case price is $

469.60



The Handee Hook Is now Stainless steel!
Order Today…….
Description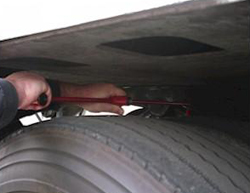 The Handee Hook Is now Stainless steel!
The Handee Hook semi tandem axle pin puller tool is the perfect truck tool for truckers. Use the two handles of The Handee Hook to your advantage when parked tightly between trailers. The Handee Hook can save you time and money by reducing fuel cost by getting you on the road faster. Reduce the chances of serious muscle strains by using the Pin Puller tool to your advantage.
All you got to do is hook the pin and grab the Double Handles and pull those tough pins. Tired of rusty or frozen pins, no problem with the Handee Hook tandem axle pin puller tool. The Handee Hook is the ultimate tandem axle pin puller truck tool. Every truck driver should have a Handee Hook semi tandem axle pin puller tool.
The most common work related trucking injuries is to tendons, muscles, and nerves.
Lifting or pulling heavy awkward objects
Repetition without rest
Pulling and Gripping tightly
Most common types of injuries
Muscle strain and sprain
Carpal Tunnel Syndrome (CTS)
Tennis Elbow (epicondylitis)
Shoulder Pain, Dislocation, Pinched nerves
Back pain, Bulging or ruptured disks
Tendonitis, inflammation or irritation of a tendon
Order the Handee Hook-Double Handled Axle Pin Puller today and help protect your health and reduce injuries on the job.
Additional information
| | |
| --- | --- |
| Weight | 2 lbs |
| HandeeHook | Retail(one unit), Wholesale(In Units of 20 ) |