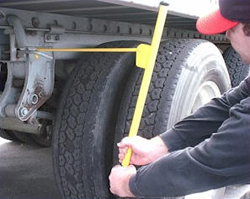 Why crawl under your trailer? Why hurt your back or your hands pulling on that stubborn rear axle pin? Use the leverage of the persuader to your advantage. Just hook the pin, place the knob on the trailer base, and pull the gripped handle!
Wholesale Purchase
Wholesale lots of 10 units
Price:
$189.90

(10pcs)
S/H: $36.99 (USA)
($36.99 S/H  each additional 10)
Call today for International rates..