Transmission Cooler and Filter System
$975.00
Description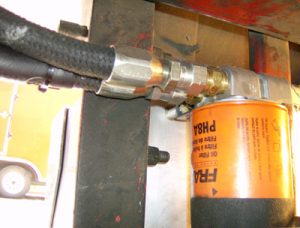 Triple Isolate Your System! With ever increasing replacement cost of transmissions, why reduce life expectancy with high temperatures? Stock heat exchangers operate off of the engine cooling system- so you're starting out it 190° before you ever move the truck. Don't forget when those units leak water into your tranny it will fail!
Vibration Isolators $64-10 Lines & Fittings $311 and Filter System was tested between July 2008 and April 2009 on a 1995 379 Peterbuilt 3406 CAT, making 500 hp. This 15,715 transmission pulls a 53ft. dry van (gross weight 79,000 lbs.) Pulling Grapevine Hills from Buttonwillow to Lebeck. A 3871 elevation gain over 50 miles at full throttle at 36mph, The transmission never exceeded 140° ,( Ambient Air Temp temperature of 75° ) Cooler $397 Cooler Bracket $149
Complete System $975 We supply all the brackets, lines and hardware! Call or E-mail for details!